CopMama has a new look for MGM and she even has started a little prompt for you if you're not able to recall any of your feelings of terrible, horrible guilt. This week's prompt is "Tell us about a time you did something absent minded as a Mom!"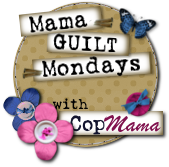 Well that's easy, I just did this last week!
My daughter has milk and peanut allergies. I recently noticed/realized that there are yogurts made from coconut milk and rice milk which she could eat. (I try to stay away from the soy milk based stuff.) I don't know why I didn't realize this earlier; maybe I was just in denial about actually paying $1.50 a carton for yogurt. But let me tell you, since she's started eating it and loving it so much, I feel a little guilty about having put her off for so long. Anyway, I digress...
The grocery store within walking distance to our house carries three flavors of this yogurt, and at a ridiculous price. I would buy one each time we went and make her split it into two servings. There is another grocery store that carries this and many, many other flavors and brands that is near to our house, but not walking distance and completely out of the way from most of the places we go... not to mention it is 40-60 cents cheaper per carton! I'd been telling my daughter for three days in a row that we could go and buy "her" yogurt at this store. Finally, all the stars aligned. Everyone was awake at a proper time and we could pile in the car and go buy "her" yogurt. We were ready to hit the road.
Socks and shoes times four?
check
.
Jackets times four?
check
.
Wallet?
check
.
Baby in car seat?
check
.
Baby toys in car seat?
check
.
Coupons?
check
.
And as I shut the (already locked) door...
Keys?
NO!


Charlotte quickly volunteered to go back and get the keys. I played along and said "OK" but she couldn't get in the door. So she asked me to unlock the door. It was kind of a crack up watching her process what was going on.
So there we were, the baby packed in his car seat, me with just my wallet and coupons -- of course this was one of the few times I didn't bring my entire mom-backpack full of tricks. I would have been ok with the whole fiasco if I had a stroller or an ergo (a babywearing carrier) for Dallas but all I had was the monster car seat which I would NOT be carrying anywhere. I spent a few minutes trying to break in to our door, but I'll be keeping my day job and not converting to a burglar any time soon. I also tried the window (which DH has used in the past to break in) but no such luck. I started calling both my husband's cell phone and our home phone. Of course, being that it's the middle of the day, and he works in the middle of the night, what do you think he was in the middle of doing?!!? That's right! Sleeping with all the ringers turned off. :O
So we spent about half an hour playing in the garden, and although my girl was a bit disappointed with missing her trip for "her" yogurt, we had fun in the backyard and no one was the worse for wear. (Except for this mama, who felt pretty guilty!) The husband woke up after a while and let us in, and we had success in our excursion the following day. yay!